Posted on 19th Sep 2012 @ 3:31 PM
LONDON, England (CNN) -- Fashion designer to some of golf's big names, Tony "The Tailor" Q'aja, was hanging out with the stars at the Alfred Dunhill Links Championship at St Andrews in October.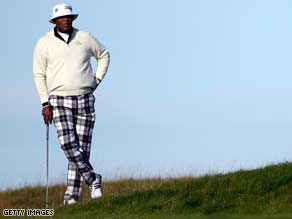 Samuel L.Jackson, sporting Tony's outfit at the Alfred Dunhill Links Championship.
He also went to Munich to see the new technology that will revolutionize golf fashion and looks at a golfer's susceptibility to harmful UV rays.
Here's Tony's monthly blog for Living Golf:
Dunhill week with Samuel L. Jackson
"My favorite week of the year. Spending time with some of the most admired people in the world, although many were missing this year. No Michael Douglas, Catherine Zeta Jones or Bill Murray. However, with the wonderful atmosphere that only St Andrews can give, there was plenty of fun to have.
Mr Qool (Samuel L. Jackson), who had enjoyed all the compliments wearing his Q'aja's at the Bob Hope earlier in the year, asked us to design something appropriate for the first day of Dunhill this year.
With the great Scottish culture and weather (rumor has it that it rains there) in mind, I put together a cream and black, bold tartan trouser with the Q factor of cream trims worn with a silk black polo and a cream angora jumper.
Fortunately the rain stayed away on Thursday (I promised "Him up there" a Q VIP outfit) so Sam looked fantastic -- even Tim Henman and Michael Campbell (both have used Q'aja in past) wished they had the courage.
Dunhill week wouldn't be complete without curry night in the great company of Samuel L. Jackson, Tim Henman, Sir Steve Redgrave and Sean Fitzgerald, to name a few -- wonderfully organized as always by Netjets supremo Rob Hersov and the lovely Claire -- thanks guys.
Munich Golf Expo
It was my first ever trip to the German expo, which I must say was a disappointment. Could it have been the fact the beer festival was going on at the same time or is the German market not as big as I thought it was?
However, it did give me the chance to witness the amazing Ion-Mask.
Ion-Mask is a gas treatment to a product through a gas chamber, which applies a nanometer thick protective layer that will make the product water repellent, and gives protection against scuffs and stains without affecting the breathability.
Although it's in its early stages, I am really excited about this innovation. This could change the apparel industry totally.
The first item to be Ion-Masked is a golf shoe by Hi-Tec, which was on the stand with water pouring onto it and yes, amazingly, the water just slid off... wow! No, people, I don't think you'll be able to do it to yourself so you never have to wash again.
Skin cancer
Now, you know how much I am into health in sport. Well, my partners Sunderland of Scotland have come out with a collection with a very high UV factor of 50. This basically means that the yarn the fabric is made from has gone through a treatment which gives protection from sun rays.
We don't realize how vulnerable we are to the natural elements from four to five hours of continuous sun rays.
I am glad that the National Cancer Institute is getting involved in the awareness of this disregarded health risk. So please, like the safe driving campaign of "Belt Up," Cover Up for safe golf!"